Tagaytay is one of the favorite weekend getaway locations for Manila city dwellers.
With a short 2-3 hour or around 60km drive to Tagaytay, you can escape the hustle and bustle and be greeted with the cool and welcoming weather, fresh mountain air, scenic view of the Taal Lake, lush greens and not to miss out, the good food.
Taal Lake and Volcano is a remarkable wonder of the nature in Tagaytay. Despite being one of the smallest volcanos in the world, it is the second most active volcano in the Philippines. The Taal Lake and volcano is famous for its unique formation where there's an island within a lake, inside a volcano. Sounds confusing? See for yourself on your next visit to Tagaytay!
You don't need to get near the volcano to admire the beauty, this Tagaytay tourist spot can be viewed clearly from the restaurants and other attractions located along the E. Aguinaldo Highway, on the left side if you came from Manila's direction.
If you are looking for some fun activities to do with your kids, the Sky Ranch is a great place to go. This amusement park offers exciting rides that appeals to both kids and adults like the Carousel, Sky Cruiser, Bumper Boat and more! Visit the Sky Ranch website to check out the full list of rides and attractions.
The most notable ride in this park has to be the Sky Eye Ferries wheel. At 63 meters above ground, you can get an aerial view of the majestic Taal Lake and Volcano.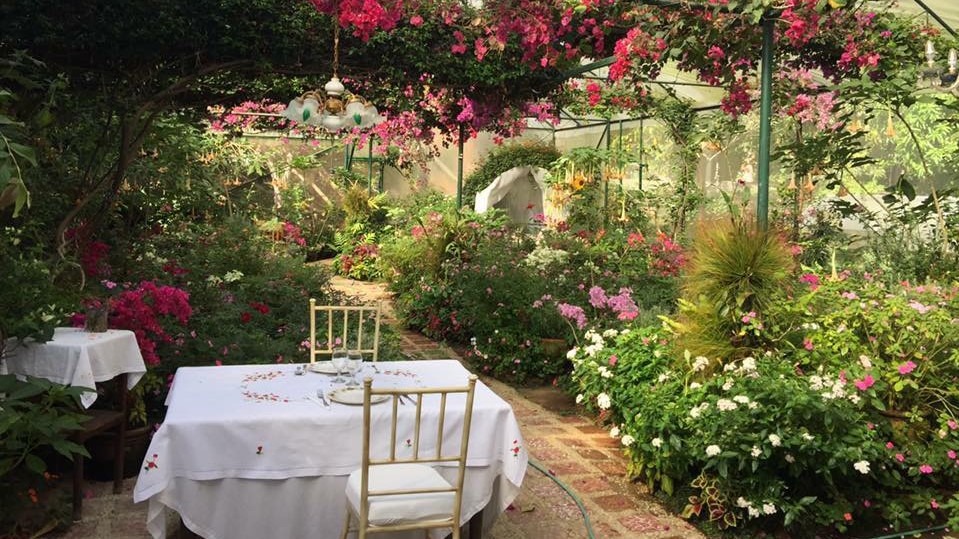 Sitting just outside the border of Tagaytay and Alfonso, this tranquil place is well regarded by many as part of Tagaytay. Here you will see colorful and refreshing flowers, lush greenery, and a beautiful interior design featuring many elements of nature including the use of mostly wooden furniture.
This romantic tropical garden and restaurant offers delicious and healthy meals. Great for couples, intimate gatherings, and special occasions like birthday celebration. On top of that, you can visit their natural mineral spring-fed river when you check in as a guest at Sonya's Secret Garden's bed and breakfast.
If you appreciate art and sculptures, then the Museo Orlina is an attraction in Tagaytay you don't want to miss. This place is a joy to visit for art-lovers. Here you will see numerous glass masterpieces created by Ar. Ramon Orlina, a world-renowned glass sculptor.
5. Twin Lakes Shopping Village
The Twin Lakes Shopping Village sits on the ridge along E. Aguinaldo Highway, overlooking the stunning view of Taal Lake and Volcano from the al fresco area. Here you will find cozy restaurants, cafes, bakery, shops, and arguably the most beautiful Starbucks in the Philippines.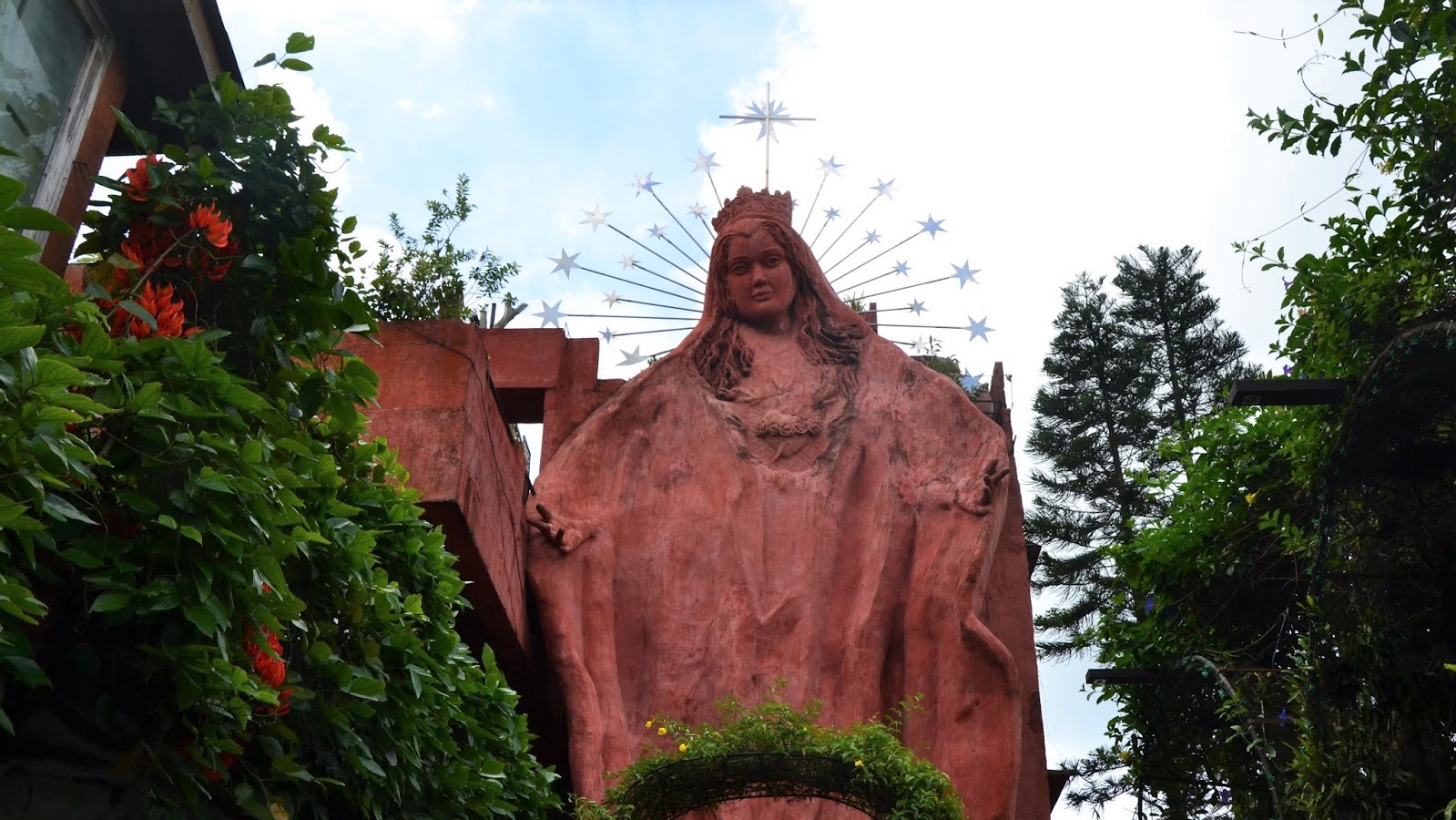 Consider visiting the Tierra de Maria if you would like to have a serene moment for your mind in between your itinerary.  Here you can see the fascinating "Our Lady of Manaoag" statue stands tall at 50ft. There is a small church next to the statue and a flea market where you can buy religious items and souvenirs.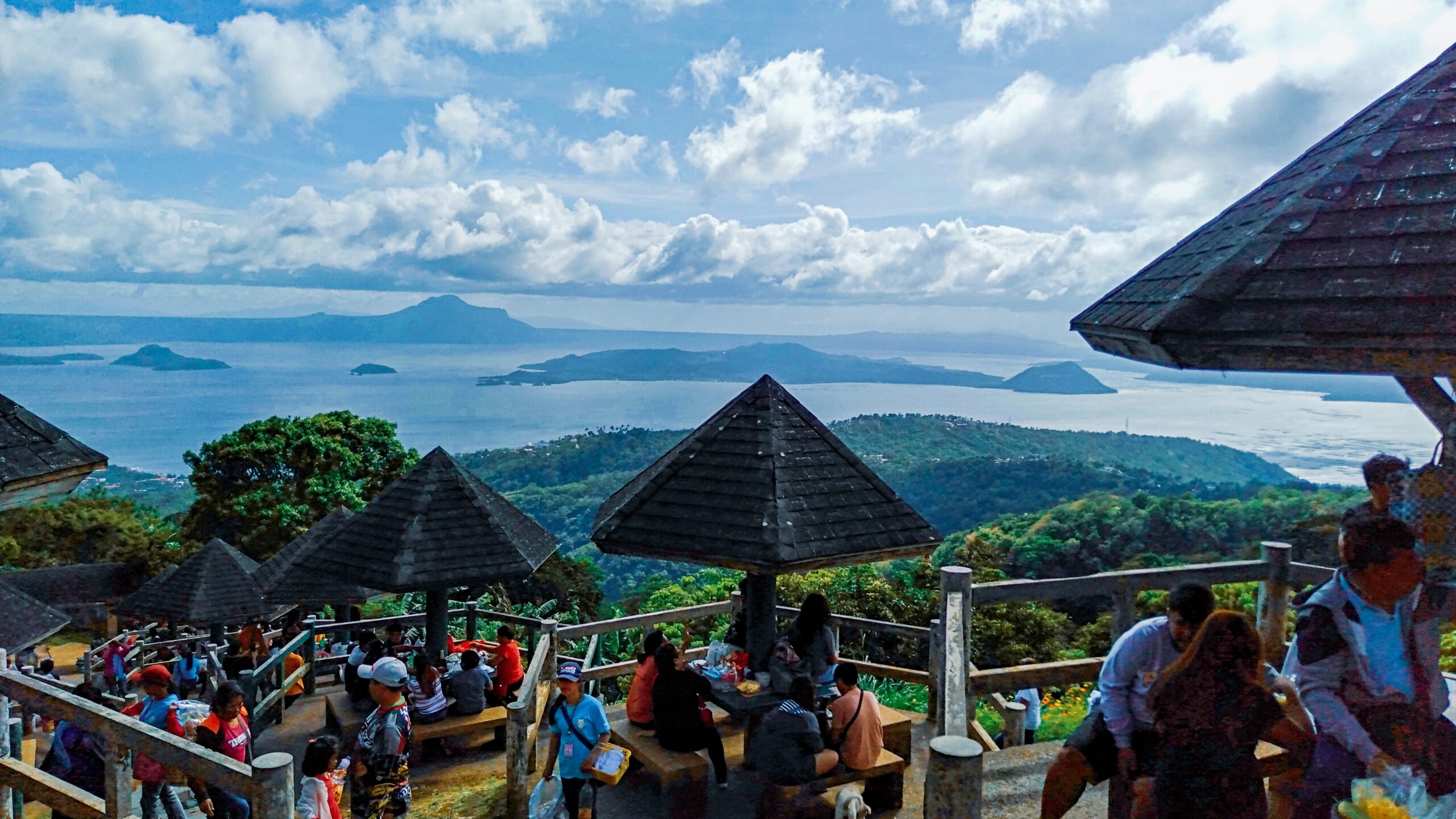 The picnic grove is a picturesque place in Tagaytay City, great for a nice picnic with friends and family while enjoying the stunning view of Taal Lake and Volcano and the cool Tagaytay weather.
There are plenty of activities to keep you and the company entertained, such as eco-trail, horseback riding, zip line down the mountain, and cable car ride above an eco-trail. It's best to wear shoes and keep your belonging secured on the zip line and cable car, so that you don't drop anything.
Do note that there's an entrance fee to the grove, and additional fees for the hut rental, rides, and attractions.
Shops and restaurants are available just around the corner in case you get hungry, or would like to do some shopping.
If you are travelling with kids, the Puzzle Mansion Bed and Breakfast an ideal place for you to visit and stay.
Puzzle Mansion holds the Guinness record for the largest collection of jigsaw puzzles in the world. The collection of puzzles includes rare and popular puzzles of a wide range of sizes, genres, sources, subject matter and art forms.
9. Nurture Wellness Village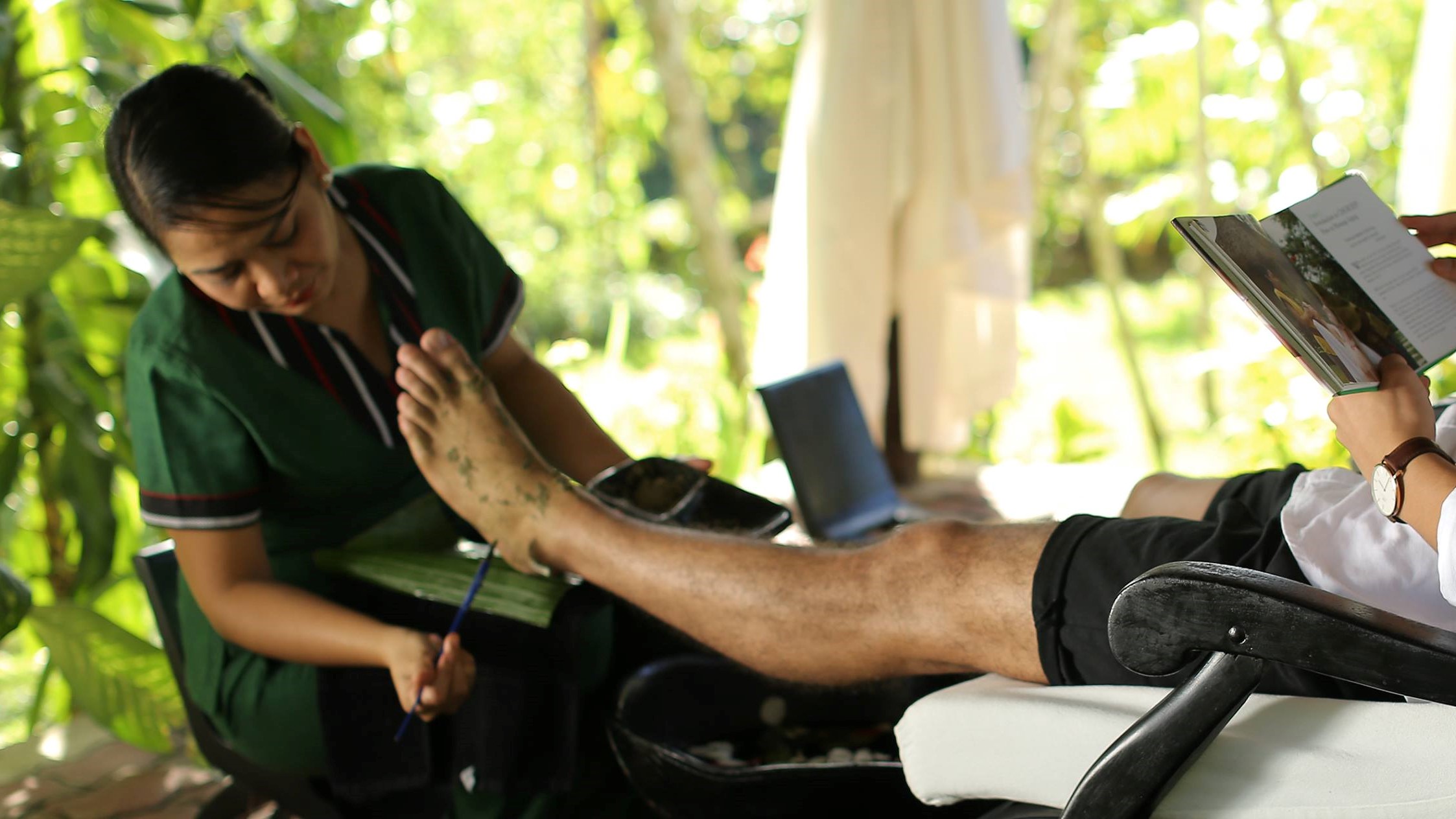 Named as one of the 28 Most Relaxing Spas in Asia by CNN Go, Nurture Wellness Village is a must visit place if you are looking for some real deal relaxations. They offer a wholesome way of relaxation through "Ecotheraphy" – healing by and through nature as they call it.  
Here you will find an offering of healthy and delicious meals around the clock, with both vegetarian and non-vegetarian choices. The services and accommodation are uniquely Filipino with its Ifugao native huts, Filipino themed interior décor, Filipino themed spa treatments, and the Filipino fusion cuisine in the restaurant.
10. People's Park in The Sky
People's Park in the Sky, or formerly known as the Palace in The Sky, is an incomplete mansion that has been converted into an urban park. This location on top of Mt. Sungay offers a breathtaking view of the lush Tagaytay landscape.
It is said that the mansion was ordered to be built by then First Lady Imelda Marcos to accommodate then U.S. President Ronald Reagan's planned trip to the Philippines during former President Marcos' administration. However, the construction stopped when the trip was cancelled.
Nevertheless, the roads and scaffolding left on the site now makes a beautiful attraction in Tagaytay worth visiting.
Like this article? Share it! 🙂