Having a well-functioning website plays an important part in establishing a strong online presence for a business. Apart from having a good website, you want potential customers to be able to find your website when they search online, on search engines like Google and Bing. That is when Search Engine Optimization or SEO comes into play.
Globally and in the Philippines, more than 90% of all searches are on Google, so we will be paying more attention to the SEO standards set by Google. As shown in the chart below, the remaining less than 10% is shared across Bing, Yahoo, Baidu, and others.
SEO refers to the steps taken to drive relevant visitor traffic to your website through online search engine listing. In a nutshell, it is the process of "optimizing" for search engines.
Below are 8 simple yet important items not to be missed to improve your website SEO:
1. Publish high quality relevant content
First of all, the content is relevant to your website and your business. This way you naturally draw attention to the right visitors. Next, the content needs to be something that is useful to visitors. Because just like you and me, we want to engage with content that adds value to us.
Also make sure that the content contains keywords that your potential customers would search for, at a reasonable amount. For example if your business makes leather handbags, you want "leather handbags" to be 1-2% of the total words in the content. If your website is on WordPress, here's a tool by Yoast to help you easily monitor that.
Don't have time to write? Hire writers. You can find good freelance copywriters in freelance websites like Fiverr.
2. Optimize image file size
Use suitable image formats (png, jpg, webp) and compression to keep the images at a reasonable quality and with light file size. Images takes up a chunk of the files that needs to be loaded on websites, optimizing this improves the load time of your website. Search engines like Google and Bing all considers the page-loading time into their algorithm.
You can also consider using CDN services to further improve the loading time of your website.
3. Never skip the Alt Text
Each time we add an image to the website, key in the alt text (or Alternate Text). Although it might easily go unnoticed if you skip that, but don't. Alt text usually contains the target keyword; this gives your website a relevance boost alongside your content.
The alt text is also an important signal for the search engine to better understand what your website is all about.
Yes, other than the alt text, write the excerpts too! Again, this is another item that gets unnoticed easily as it sits at the back. For every post and pages of your website, write a short and appealing summary of the content.
The excerpt will show as the summary text on search engine results pages. This is also a nice way to attract a visitor's interest to click through and read the content on your website.
5. Improve website navigation
Have you come across a website where you couldn't find what you are looking for? Chances are that the website navigation is poorly structured, and you most likely would just leave the website right away. We can avoid that by planning a proper structure that gives a smooth experience for website visitors. Important to note that search engines reward websites that provide positive user experience for visitors.
Best way to do this is to get someone from outside your business to try to look for something on your website, and get feedback from them. And one last note, do keep the navigation to 3 levels or below.
6. Remove duplicate content
While it might seem harmless to have different versions of the same page sitting on the website, it actually harms our search engine ranking. Simply put, search engines wants to reward websites with unique content, so they penalize websites with duplicates.
Check regularly for duplicate content on your website, either remove them or move it to Draft if you somehow might need them in the future.
7. Optimize website for mobile
More than half of all searches are from mobile devices. As of 2015, Google started penalizing websites that are not optimized for mobile devices.
If you don't have a website yet or is planning to build a new one, make sure to use platforms that are mobile optimized. You may come across the term "responsive website" or "mobile responsive". These terms refer to the same thing, mobile optimized website. On the other hand, if you already have an existing website, consult to your web developer to see if your website is already mobile friendly. If the answer is no, check with your web developer if it is possible on the current platform your website is on, or consider rebuilding it.
8. Create Internal, Inbound, and Outbound links
A link or hyperlink is a clickable object that leads your website visitor to another section of the same page, another page, or a different website. Links help improve SEO in different ways:
Internal links – these links help visitor navigate better on your website, thus giving them a better user experience just like in point number 5 above.
Outbound links – help achieve authority, similar to when you reference the sources used in creating your content
Inbound links – also known as backlink is a link from another website to yours. It has the greatest SEO benefits, but also the hardest to acquire. Google views inbound links as an indicator that your site has high-quality content. Inbound link from relevant websites will make significant positive impact to your website. A good way to start with this is to list your business on credible business directories, or asking for other relevant website owner to link to yours.  
9. Optimize your Local SEO
Last but importantly, work on the local SEO for your business. Whether your business has a physical location or serves a specific area, it would benefit from local SEO. Google understands that when we are looking for certain type of products or services, we would prefer to get it from a location nearby.
Here's a good example, of a "coffee shops near me" search result on Google.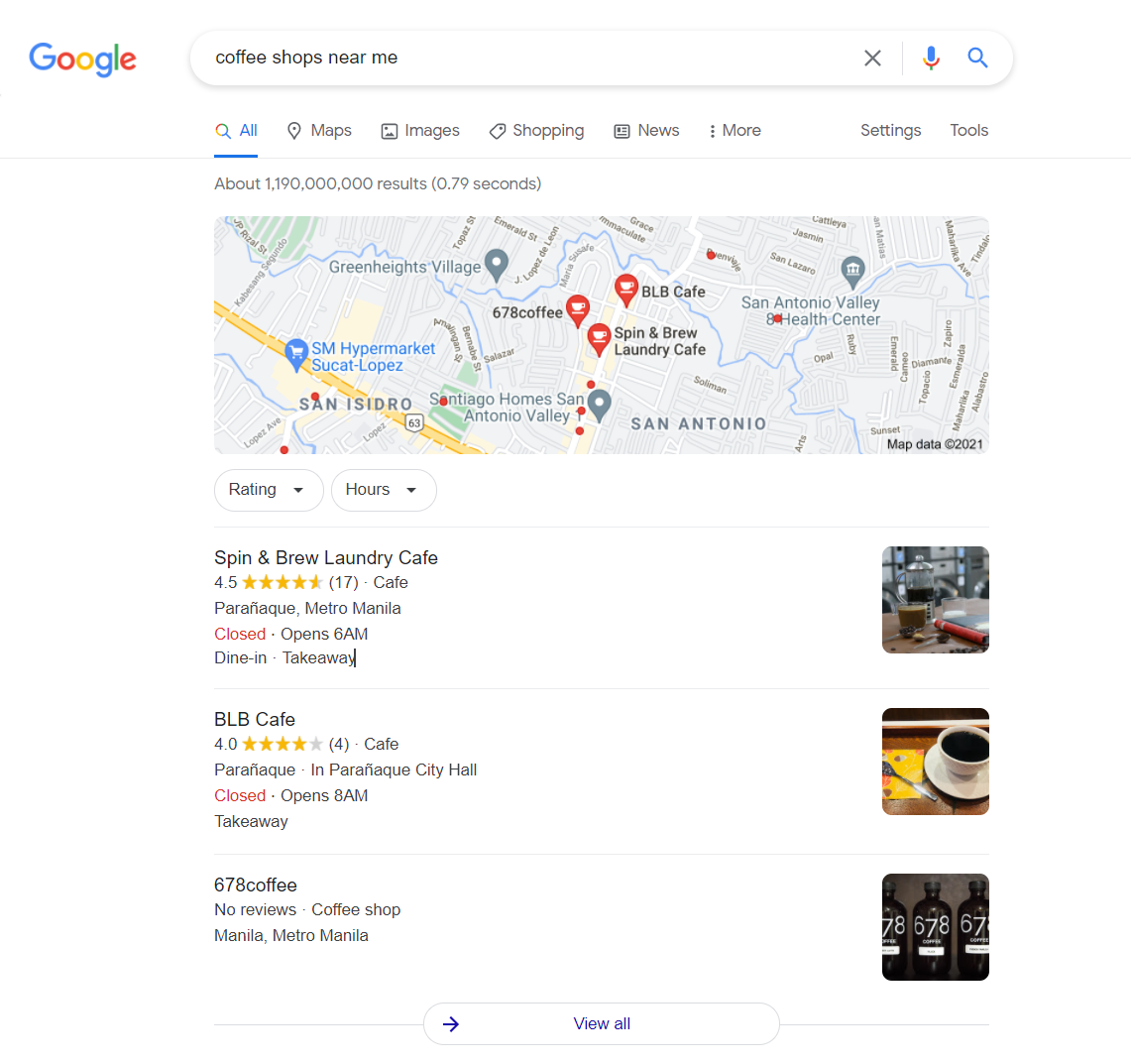 First thing to note is that the Local SEO results appear at the very top of the search results, meaning the visibility is much higher. Some searches do not even get pass the local SEO results, simply because they have found what they need.
The most straight forward method to start appearing in local SEO result is to claim your business listing on Google My Business and make sure to accurately input all the details of your business including business name, category, exact location on Google Maps, and business hours. It is also beneficial to upload photos of your business to the business listing. From experience, we found that the menu is almost always the most viewed image. If your business is a restaurant, café, bakery, or any other that has a menu – make sure to include that.
There are a few more items that we can do to optimize the local SEO, we will cover this in detail on my next article. Stay tuned!  
Like this blog? Share it! 🙂