The island of Siquijor is known for spiritual practices like witchcraft, healing and rituals. However, look beyond that and you will see a beautiful island with amazing nature! Tourist both local and international comes to Siquijor to enjoy the white sandy beaches, turquoise water, waterfalls, caves, and more!
Siquijor is the third smallest province in the Philippines and it is located in the Central Visayas region. To the north of Siquijor is Cebu, to the west is Negros, Northeast is Bohol and to the south is Mindanao.
This beautiful island is composed of 6 municipalities, namely Siquijor, San Juan, Lazi, Maria, Enrique Villanueva and Larena. It is a small, mystical and laid-back island with rich history and it has amazing natural attractions.
This province is small that makes it possible to tour the whole island with motorbike in less than 3 hours. You may rent a motorbike for touring around. Most of the foreigners prefer this, as tourist attractions are quite a distance from each other.
The best way to tour around Siquijor is to charter a motorbike which costs Php350 per day. You have to replenish the fuel tank before returning the bike. The national highway is well-paved and runs around the whole island. While driving around, you will pass by locals that will say hi and smile at you. Most especially the kids, they will happily wave at you and you will see their genuine smile. Don't hesitate to smile back at them. 🙂
The most famous falls in Siquijor is Cambugahay Falls. However, this does not mean that this is the only beautiful falls on the island. There is also Lugnason falls, Lagaan falls, Cangbangag falls, Kawasan falls and Cabugsayan falls. My most favourite is Lagaan falls that is almost like Cambugahay falls but less crowded. Entrance and tour guide fee in Lagaan falls is Php50 per person and Php20 for bike parking.
When we came here, we have the whole waterfalls for ourselves. We reached the falls at 3PM; it was very serene and rejuvenating. At that time it was only me, my fiancé and our tour guide, Bob. We were lucky to have Bob as our tour guide. He was kind to us and very knowledgeable about the place. I suggest looking for him when you visit Lagaan Falls because he knows where to take good photos – a tour guide and an instant photographer all in one!
Siquijor waterfalls are definitely worth visiting. You can experience to be Tarzan and swing along the falls too. The water is cool and deep enough to jump into. Adrenaline rush is surreal!
Waterfalls in Siquijor are all amazing. It was truly nature at its best!
2. Old Enchanted Balete Tree
This Balete tree is a popular landmark in Lazi, Siquijor. A little difficult to find, you won't see big signage so you might miss this if you just look on the road. If you are coming from San Juan, keep your eyes open to the right.
Entrance fee is Php10 per person and parking fee is Php5 only. There is a comfort room for males and females beside the parking area.
There are shops before the entrance where you can find charms, potions and voodoo dolls. This is the best place in the island to buy souvenirs like key chains, refrigerator magnets and T-shirts.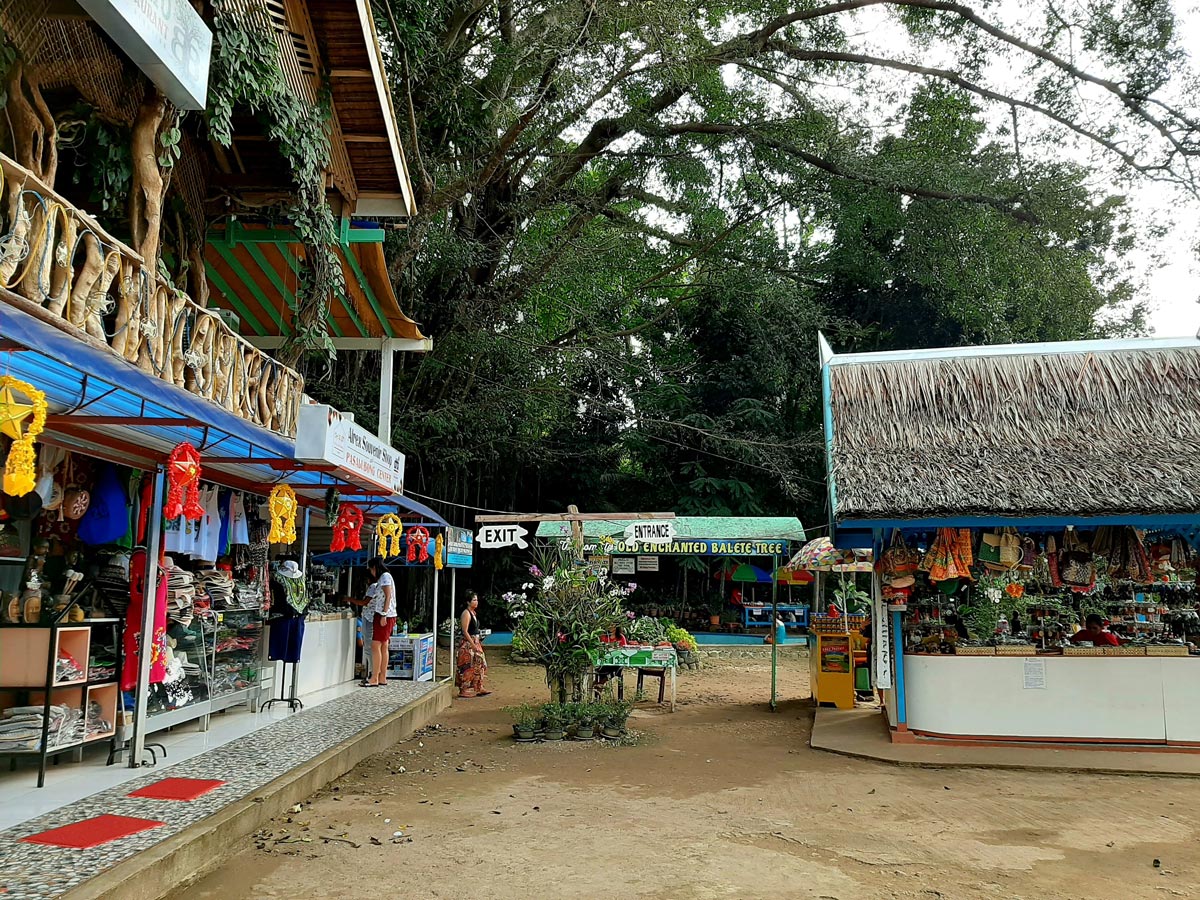 If you are a mystery junkie, you would love this place. This giant Balete tree is a 400-plus year-old tree which believed by the locals to be enchanted up to this day. Locals described it as a magical and dwelling place of supernatural creatures and nature spirits such as tree demons, fairies and dwarves.
At the foot of the tree is a man-made pool filled with small fishes where you can try nature's fish spa all for free. The fish foot spa was a relaxing and ticklish experience!
3. Sunset Viewing in San Juan
The famous Siquijor sunsets are best seen in San Juan where most of the resorts, restaurants and bars area located. Breath-taking beach, spectacular sunsets, tall palm trees, fine white sand and view to the neighbouring islands are definitely a must see in Siquijor.
It is the ideal place for someone like me who is a beach bum. Grab a fruit shake or cold beer, sit down, lay back and enjoy the stunning sunsets in San Juan.
The overwhelming beauty of the sunset and the relaxing vibes are more than enough to make me come back over and over again.
Riding around by motorbike is also one of the best things to do in Siquijor. It was a mystical trip for me and my then fiancé, we would definitely come back and discover more breath-taking views that this majestic island offers.
Like this Blog? Share it! 🙂